Here are my two Kookaburras taken from my larger Kookaburra Charm painting cropped to produce just the focus on the two birds. I really like this section of the painting with them looking at each other…you can adapt your own story as to what the communication is between them.
Kookaburras Two
Kookaburras two meet in a tree,
a silent conversation we can see.
One looks up with its shiny eyes
the other down, not one of them shies.
Content in the knowledge they are not alone,
Companionship, love, a bond is grown.
Linda Callaghan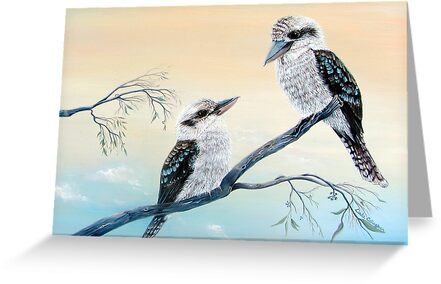 Acrylic on Canvas
Featured in Redbubble Groups:
THE BEST OF ANYTHING AND EVERYTHING
A PLACE TO CALL HOME
IMAGE WRITING
THE BIRDS
PAINTERS ACADEMICS
DECORATIVE AND TRADITIONAL ARTWORK
EQUISITION
THE BEST OF RED BUBBLE
REALIST TRADITIONAL ART