Continuing with my bird series I am painting the striking Australian Major Mitchells, known as one of the most beautiful cockatoos, with its lovely pink and salmon tones and brilliant red and yellow crests. Meet ' Major' who is a part of my larger painting to be loaded on completion. This is just a close up shot of one of the birds I am painting for you to see details.
Major Mitchell
Striking cape opened wide
showing off colours with so much pride.
A mate is seen so must impress,
spreading feathers of a bright headress.
Sure to catch this mate so fair,
what was one will soon become a pair.
Linda Callaghan

(Painting inspired by Paul Evans Images, taken while managing Birdlife Australia, Eyre Bird Observatory, Nullarbor))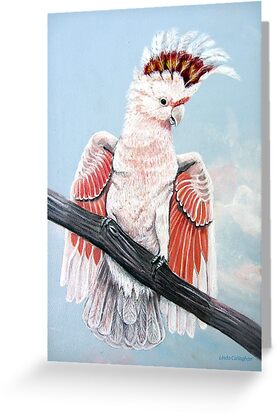 Matisse Acrylics on canvas
FEATURED
ARTISTS UNIVERSE
EVERY LITTLE THING YOU DO
A CLASS OF ITS OWN
.