Katoomba is a popular tourist attraction here in the Blue Mountains and many people have set eyes on the spectacular Falls that put on a show after heavy rains that run off into the Kedumba River.
The Falls
Crashing, splashing, downwards it roars,
Sparkling water drops jump and soar.
The cascading veil hide rocks of stone,
Set in time forever is this water throne.
ORIGINAL SOLD 1.12.13 direct from studio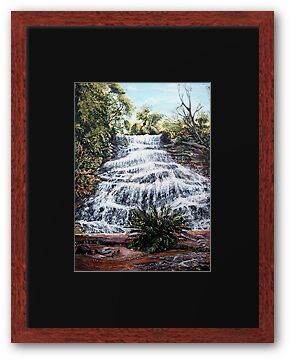 Linda Callaghan
BEST VIEWED LARGE
Acrylic on 300 gsm Arches paper – 23 × 31 cm
Featured in Redbubble Group
Acrylic Painting
Art with Meaning