To add to my tree series Forest Light was painted with a limited palette..using cool blues, greens and yellows. I am drawn to paint trees in a free flowing style and enjoy watching the unpredictabliity of watercolours on wet paper. Here the leaves sparkle like jewels against the darkness of the forest.
ORIGINAL SOLD
Forest Light
Hidden deep the trees stand tall,
Cool air and shadows surround them all.
A touch of light finds it way,
between the trunks to have its say.
Sunkissed trees begin to thaw,
from the tips of their leaves to the forest floor.
Linda Callaghan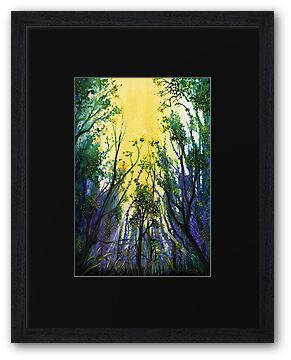 BEST VIEWED LARGE
Watercolour and ink on reeves 300gsm watercolour paper dimensions 41cm x 30
Featured in
SUPERBLY VISUAL
THE BEST OF REDBUBBLE
THE BEST OF THE BEST
ALL GLORIOUS GARDENS
TREES BEAUTIFUL TREES
PAINTERS ACADEMICS
SPIRIT OF THE SEASON
WATER MEDIA
FEATURED ON REDBUBBLE'S EXPLORE PAGE
IMAGE WRITING
ART UNIVERSE
IMAGE OF THE DAY IN PERFECT HARMONIES