A very special time of the year is approaching where some celebrate the birth of Jesus known as 'the light of the world'. Candles are used for many reasons and have a long place in history. We have ours ready and waiting to be lit over the festive season….
Christmas Candlelight
A candle shines with all its might,
It glows in the dark and turns everything bright.
It is lit in celebration and in memory of those dear,
A special symbol at Christmas this is clear.
So fill your home with warmth and light,
rest your eyes gently on a comforting sight.
Linda Callaghan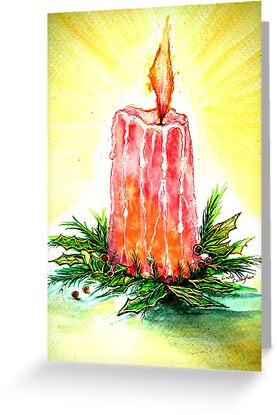 Watercolour, acrylic and ink…dimensions17 x 24cm on Fabriano 300 gsm paper.
Featured in:
Jolly Olde Saint Nicholas
Best of Anything and Everything
Redbubble Boomers
Painters Universe
Inspired by Life