Feeling inspired by the approaching festive season and with the thought of snow falling in some parts of the world, I realised that most flowers will be in hibernation. Many gardens will be bare so with this in mind frosty flowers were 'sown' with my paintbrush in flowing purples and blues.
Frosty Flowers
The first snow falls upon the ground,
floating, softly, gently down.
A bird soars onwards to warmer skies,
above frosty flowers it swoops and glides.
Flowers sparkle against the white of snow,
All through winter they bloom and grow.
Linda Callaghan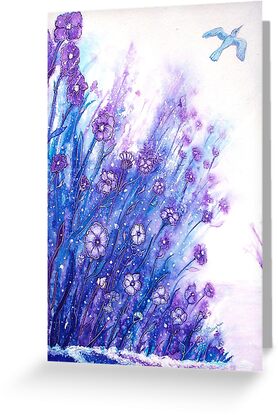 Watercolour and ink on 300gsm Fabriano watercolour paper
Featured in
WORKS ON PAPER
NEW CREATIONS OF BEAUTIFUL ART AND PHOTOGRAPHY-BEST OF THE BEST
PAINTED NATURE
SPIRIT OF THE SEASON
ALONG THE RURAL ROAD
A FASCINATING PURPLE
Top Ten Placing in Christmas Daisy challenge