Meet Dougie..a cute Jack Rusell dog! This is my first commissioned pet portrait. I was given a photo where his eyes had reacted to the flash but knowing they were dark did some guess work. Seeing as Dougie has mostly white fur, and wanting contrast, I used special black pastel paper that my bubble friend Karen Hull had so kindly sent to me…so I was happy I succeeded first try! I really hope I have done Dougie proud…he is such a handsome little dog, getting on in years now, and loved dearly by his owners.
Below are just a few stages of my drawing process.
Photo of Dougie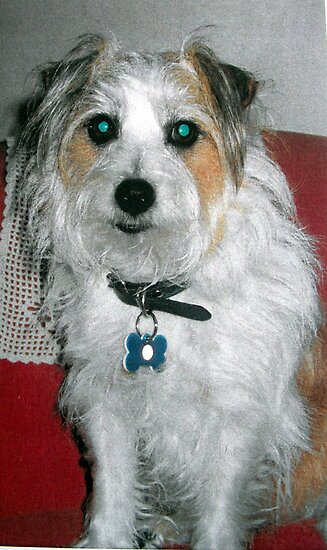 I sketched a quick outline with white pastel, and began at the top so as not to smudge the pastel, and slowly worked my way down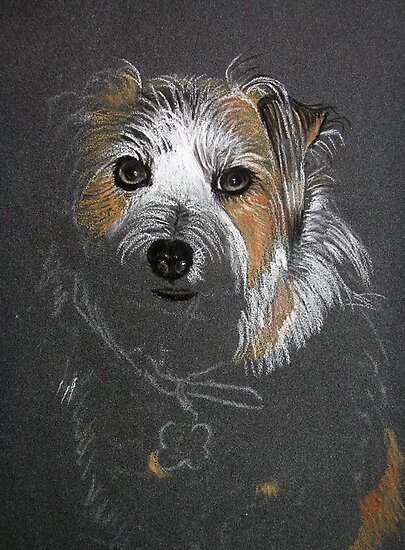 I continued using long strokes and adding fur for depth, shape and form. Before the final artwork I thickened the legs you see here that needed more work…and added a few final touch ups.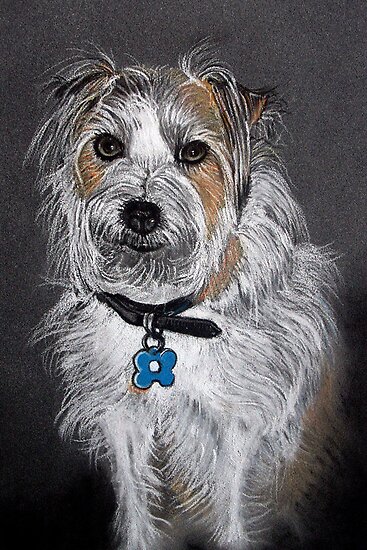 Dougie
I am small but my loyalty is strong,
When you go for a walk you take me along.
I am close by your side at all times,
I am your best friend, as I know you are mine.
I watch over you, you are never alone,
I am lucky to have you for my very own.
Linda Callaghan
Faber Castell Pitt Pastel Pencils on Black Pastel Pad Paper
Featured in IMAGE WRITING
CATS AND DOGS
CONTEMPORARY PASTEL PAINTERS
PENCIL DRAWING
K9 FRIENDS