We all have dreams that take us to different worlds when we sleep. l was contemplating how nice it would be if we had our own Dreaming Tree full of dreams that we could choose from so when our heads hit the pillow at night we could dream of whatever makes us happy.
Dreaming Tree
There is a dreaming tree full of leaves,
Step up.. take a leaf, if you please.
Hold it softly with a vision with your eye,
Release, and watch it float towards the sky.
It will dance on the wind with so much grace,
then sleep and go to your special place.
Linda Callaghan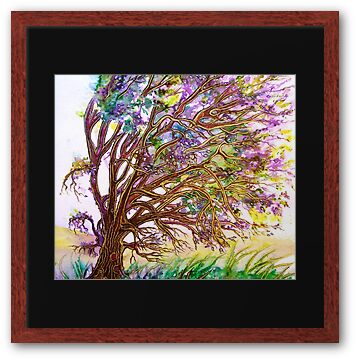 Watercolour and ink on Arches watercolour paper. 30 × 21cm
FEATURED IN IMAGE WRITING GROUP
ART NOUVEAU
FROM THE HEART
PEACE LOVE TRANQUILITY
THE DREAMING TREE
Unfortunately I spilt tea on the original and ruined it…but thanks to bubble there are still many other options available. Prints also available direct email lindart@mail.com