I enjoy painting leaves and seeing as I had neglected my pastels for some time I decided to use these on Black Canson Paper to achieve the shadows and contrasts that I wanted to achieve. Maybe I should have called it a maze of leaves :)
Leaf Parade
Fading in the shadows they have played their part.
The spotlight moves, a new parade to start.
The show begins with colours that shine,
Leaves perform, they shimmer, all in time.
Then as light falls to caress the floor,
We await another day so we can see more.
Linda Callaghan
A different look on leaves from my point of view inspired from the ever changing colours that I see in my garden.
Soft and hard pastels with prismacolour pencils and inks on Canson Pastel Paper. Dimensions
21 × 30cm.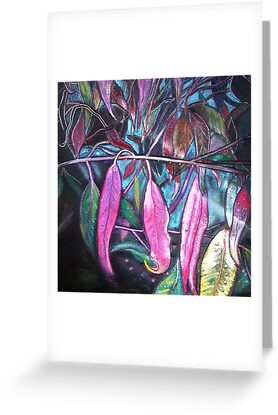 Featured in IMAGE WRITING
CONTEMPORARY PASTEL PAINTERS GROUP