Painting inspired by the beauty and colours of flowers. No matter what mood you are in spirits will always be lifted at the sight and smell of any flower. Using watercolours on wet paper and when dry overpainting with acrylic and pastels.
ORIGINAL SOLD
Dancing Poppies
They bend and sway in the morning breeze,
Heads held high they push and squeeze.
Splashes of colour catch the light,
A carpet of Red glows strong and bright.
Tempted to view with a sideways glance,
A butterfly rests and admires the dance.
Linda Callaghan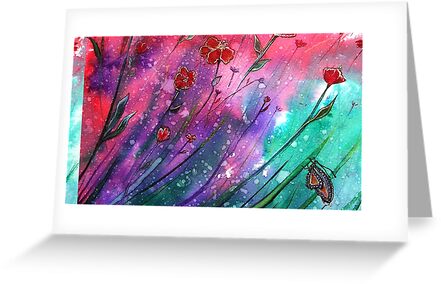 Mixed media of watercolours, acrylics and pastels on 300 gsm Arches watercolour paper.
21cm x 30cm A4 size.
Featured in Redbubble Groups
FEEL DON'T COPY
BEST OF ANYTHING AND EVERYTHING
BEAUTY OF POETRY
FABULOUS FLOWERS
REDBUBBLE BOOMERS
LIGHT IN THE DARKNESS
IMAGE WRITING
VAVOOM
BEST OF REDBUBBLE
SHAPES AND PATTERNS
Top Ten Winner
Women Painters Challenge