There is so much around us that we take for granted. Like the warmth on our faces from the rays of the sun and the life it brings. From a tapestry of leaves with an abundance of colours to the smallest insect, we all need a little sunshine in our lives.
Colours of Sunshine
A little ray of sunshine is all that we need,
It keeps us warm and nourishes the seeds.
It lights up our smiles and lifts our mood,
It gives life to all and grows our food.
So when you next see this glow in the sky
Remember these thoughts as it shines so high.
© Linda Callaghan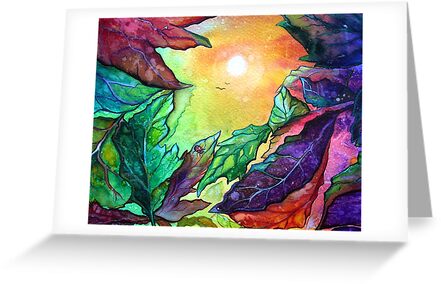 Using wet on wet technique with my brilliant watercolour wheel. An imaginative, colourful 24cm x 32cm watercolour on Arches 300gsm.
BEST VIEWED LARGE.
Voted First Place out of 104 entries in the 'Leaf or Leaves' Challenge of JPG Cast Offs!
Featured in Safe Haven Group
Impressionism Cafe
and on Red Bubble's Art Page
The Best of Redbubble
Image Writing
Country Bumpkin
Bassenthorpe Gallery
Artists Universe
Superbly Visual
Perfect Harmonies
Women Painters