Sometimes life is hard and we cannot find our way. Like a forest full of trees we are lost in the thicket. Worries branch out in all directions gripping us tight….until we see a ray of light. Now there is hope and it all becomes clear.
Ray of Hope
There is light
where there is dark
Just use your sight
to find the mark.
There is hope
where there is fear
You will cope,
just hold faith near…
Linda Callaghan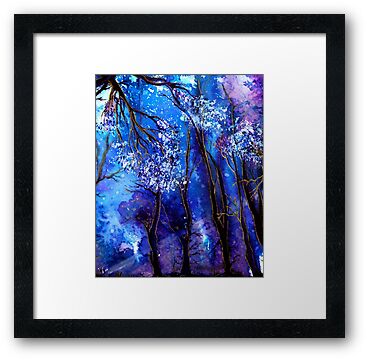 My thoughts are with those suffering losses.
Watercolour on Arches 300 gsm with gold pen highlights. Using a limited palette with the wet on wet technique and then shaping the painting.
BEST VIEWED LARGE
FEATURED ON RED BUBBLE'S HOMEPAGE
Featured in
Image Writing Group
Art with Meaning
Impressionism Group
Watermedia
Decorative and Traditional Art
Top Ten Challenge Placements
First Things – Out of the Blue
Painters Universe – Landscape in Blue or Green
Perfect Harmonies