Continuing with my Welsh paintings this picturesque scene stopped me in my tracks whilst on a cliff walk from Tresaith to Aberporth in West Wales.
Apart from the brilliant colour contrasts, my eyes were drawn to this pretty location with the cottage overlooking the sea. Perched on the cliff tops this must be one of the best spots in the world to live.
Cliff Walk
There is a cottage on a hill,
that watches the ocean when wild and still.
Far away from the maddening crowds,
where the sound of silence is almost loud.
Along the cliff walk there are treasures to find,
but this memory will linger as one of a kind.
Linda Callaghan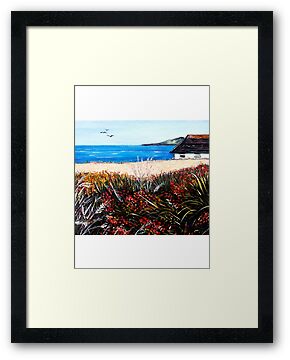 30cm x 15cm Acrylic painting on canvas.
BEST VIEWED LARGE
More paintings of Wales:
Colours of Sunset – Tresaith, West Wales
Escape to the Country – Cenarth, West Wales
FEATURED IN
Art and Collectables Group
Painters Universe
All About Flowers
Country Bumpkin