This is a special painting for my dear husband, John. A gift for Christmas.
One of his hobbies is to go for a motorbike ride on his Honda (and occasionally he talks me on to the back for short trips)! He loved it!
Life is a Highway
The metal horse races fast,
The world around you blurs past.
Life is a highway yours to ride,
The thrill of the bike dips from side to side.
Nothing compares to the freedom you feel,
As the wind travels with you close on your heels.
Along the bendy road it roars,
You are one with the bike and your spirit soars.
Linda Callaghan
A 30cm x 30cm acrylic painting on canvas.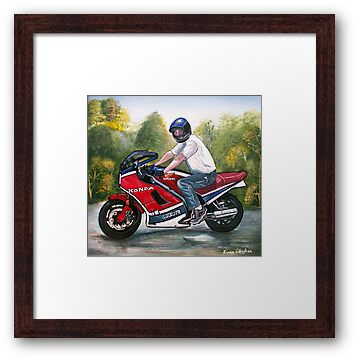 John on his favourite motorbike, a Honda VF1000R.
Featured in PAINTERS UNIVERSE