Living in the Blue Mountains of Australia I thought it was time to do a painting of the famous Three Sisters. They are situated at Echo Point, in Katoomba (a 10 min drive from us). Katoomba is the aboriginal meaning of shiny, tumbling water. They stand at 922, 918, and 906 metres tall respectively, (over 3,000 feet above water).
The ever changing sunlight brings out the colours in the formation of the rocks and they are lit up at night putting on a spectacular show. They are a popular tourist attraction and no visit to the Blue Mountains would be complete without experiencing this view.
This painting was AWARDED THE ROSE LINDSAY ART PRIZE AT SPRINGWOOD ART SHOW
ORIGINAL SOLD
THE MOUNTAINS
There is a sight that you must see,
of mountains tall and stones of three.
Around the world you will never find,
such a view as this etched in time.
Linda Callaghan
Matisse Acrylic Paints on 60 × 50cm Canvas
Best viewed large.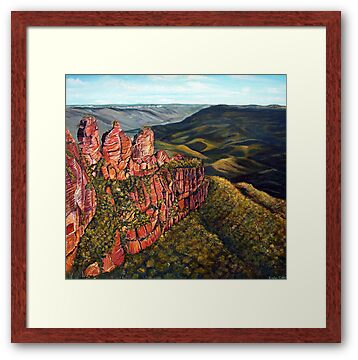 FEATURED IN FOLLOWING GROUPS
ART WITH MEANING
LANDSCAPE PAINTING
AUSSIE BUSH PAINTINGS
STORY THROUGH IMAGE
A PLACE TO CALL HOME