I have wanted to try the Saran Wrap technique (plastic wrap) for some time now so deciding to take the plunge this is what emerged. I applied the watercolours and wrap and let it dry. I then had to come up with a painting with the design left on the paper. I used my imagination to create this fantasy forest landscape. I added a touch of gold pen for highlights and definition.
Sunkissed Valley
There is a valley not far from here
where you can walk and have no fear.
The sun burns brightly across the land
where we stroll together hand in hand.
The glow is bright and warms up the night
It leads us through the dark into the light.
Linda Callaghan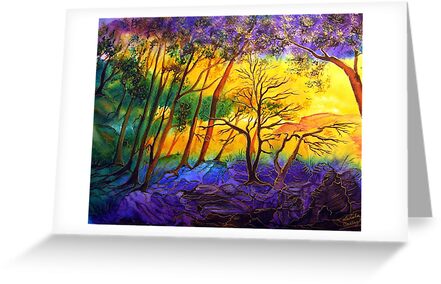 Watercolour and Gold Metallic pen on Arches 300 gsm paper.
Featured in Redbubble Groups
FIRST THINGS
IMAGE WRITING
ART WITH MEANING
ALL GLORIOUS GARDENS
THE BEST OF REDBUBBLE
ARTISTS UNIVERSE
DREAMING TREE
THE BEST OF REDBUBBLE