Australia is well known for its beautiful beaches and seascapes which I love to paint. I was inspired to paint this beautiful view of the South Coast with the different shades of Blue. I was especially drawn to this one with the stark bare trees framing the rock beyond in the ocean.
32cm x 24cm watercolour on Arches 300gsm using my brilliant watercolour wheel.
The Sea
When your mind is cluttered and full of worry
Turn your eye to the sea… pause, do not hurry.
Relax your mind and breath in deep
Uncurl the tension it will help you sleep.
Linda Callaghan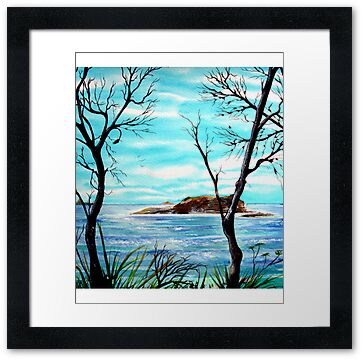 Featured in:
Live and Let Live
Beauty of Poetry
Favourite Places, you Take, Make or Paint
Self Taught Artists of Red Bubble
Trees Beautifful Trees
Chosen as a feature in Best of the Best – Angel of the Day 2012 May
Featured on REDBUBBLE'S HOMEPAGE