As the sun goes down the tree remains standing tall, shadows spread over the land.
21cm x 30cm Watercolour on Arches Medium Watercolour Paper with a touch of metallic Gold acrylic paint for highlights.
Sundown Shadows
With the going down of the sun
dark shadows will fall
brightness dims… the night has come
the land is cloaked, it wears its shawl.
© Linda Callaghan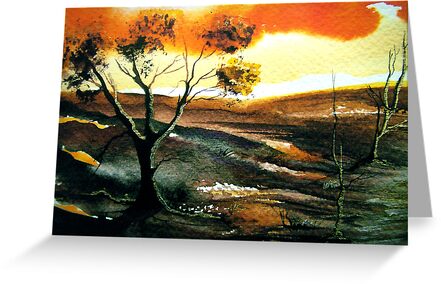 FEATURED ON THE HOME PAGE!
FEATURED IN:
CREATIVE CARDS
IMAGINATIVE REALISM
JPG CAST OFFS
FEATURED FEATURES
SHADOWS AND REFLECTIONS
EVERYDAY WOMAN
WATER MEDIA