This little birdie is looking mighty fine ..dressed to impress. Caught my eye when we were holidaying at the South Coast hiding in a tree. Here 'tis in the spotlight with less leaves and branches painted in soft colours. This is my first painting of a Kookaburra on a smaller scale.
ORIGINAL SOLD 20.12.13 direct from studio.
Dressed to impress
Eyes sparkle with a tilt of the head,
waiting patiently, feathers spread.
Dressed to impress high in the tree,
Looking for a mate to see.
© Linda Callaghan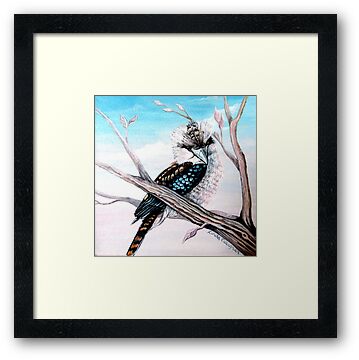 Acrylics on Winsor & Newton Canvas, tripled primed. 20cm x 20cm (8″ × 8″)
Featured in Redbubble Groups
Artists Universe
Acrylic Group
Image Writing
Inspired Artwork