Hi friends
Hope you are all keeping well. I have not posted a journal for some time
but have some exciting news to share with you. I am holding my very first solo show that is only a few days away…but who's counting lol…refer below


If any bubblers live in the area or would like to travel to the mountains to view please do! The Olde Block Gallery is not just a gallery it also has a cafe serving homemade light meals, holds functions, has a lovely courtyard and guesthouse with spectacular views.
I am also delighted to share with you the news that I sold two of my paintings at the 36th Annual Springwood Art Show on the weekend -
Autumn Jewels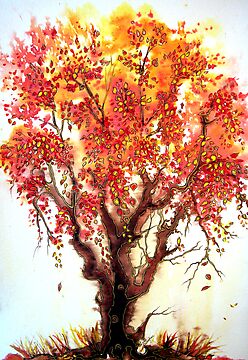 and Autumn Blaze

Also sales on bubble have been good and since June I have sold..
Button Grass – Card
Life is a Highway – T Shirt
Fairy Flowers – Card
Watercolour and Ink – Calendar
Happy Hydrangeas – Card
Post Box – Card
Daisies – i phone case
Beach – Sticker
So a big thank you to any of the buyers if you read this post!
Other news is that we are busy setting up a home studio here at the house for me to eventually open to the public and I can see my dream finally materialising before my eyes. I trust you are all enjoying your creative pursuits and life is much brighter when it is full of paint! I will let you all know how I go at the show and post some pics for you to see.
best wishes
Linda