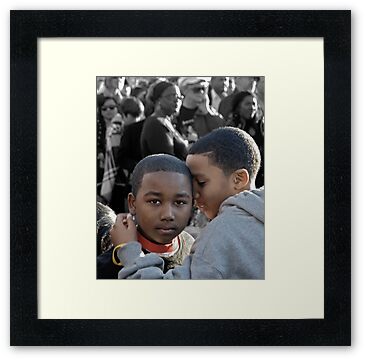 CIVIC CENTER, SAN FRANCISCO, CA
writing challenge in touched by fire group
All That
By Linaji 2010
I turned around on the day of Obama's Inauguration and
there you were:
No sign here of fear nor pain,
perhaps a few scrapes with a bullied heart
on an unkempt playground
full of weeds and stagnate futures
Perhaps a few, no perhaps many words from
'adults'
saying life is hard, unfair and in disarray
because they got a bit lazy and believe what
others say
insead of claiming like you do here and now
who they Be…
Today…
No sign here of fear nor pain
forth coming glance gleening powerful
intent
shining forth from you child.
Brown sunshine erupting hope
facing life on life's terms
I can smell your essence
see your ready smile?
you ready to fly today I say!
Up Up Up…on your own
calculating the way!
Don't listen I say,
to the lies all day…
turn off the T.V.
The message lay supple like clay
layered in between punctuated
allowing lips
bearing small upturned smile essence
when the days end and the
trouble begins
your deep pool eyes of knowledge
tell me you know…
You Are:
All That
San Francisco January 20th 2009.. Civic Center.. Outside Big Screens..
Political Officials and Each Other!
I was squashed in a corner but squashed in Love and friendship.. I could not move too far to get too many shots while he was sworn in.. I should have bought a box to stand on and I am 5'9!! But I got a few good shots and was with fellow Americans who cheered and booed.. (when guess whos appreared.. B and C !!) and was full of the Spirit of our country …
The
United States of America
with emphasis on the United part!!
Enjoy friends…. and you were all with me.. I saw everyone's comments on my Iphone!!!
You sure are a wonderful family!