My scribbler curation hit the RB HP today!
I had such fun curating the scribblers! So many great creations to choose from! Here's the selection that hit the redbubble hompage today with a bang…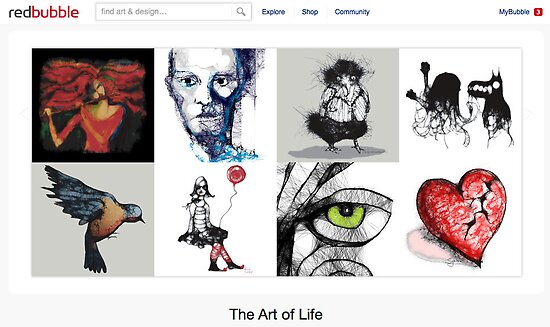 A huge congratulations to kafka , Cindy , mr. teddybear , Sarah , Helen , tatefox , sybille and artsmitten
If you haven't discovered the scribbler revolution yet, check out redbubble's post Create a 15 second masterpiece and start your own scribbler creation here . Lynnette Shelley kicked off a challenge in her journal article the other day and the rest is history… Glad I can contribute in some small way, even though my own scribbling skills leave a lot to the imagination ;)
Here's the curated layout as submitted. Unfortunately Caroline Roberti 's scribbler masterpiece (top right image) couldn't make the hp because the girl's head would have been chopped off.
scribble obsession, 15 January 2011
Red Bubble substituted this amazing creation by artsmitten :
There were so many other scribbler creations to choose from! Here's a few of them: