Dryadula phaetusa – Orange Tiger
Dryadula phaetusa, also known as the Banded Orange Heliconian, Banded Orange, or Orange Tiger, is a species of butterfly (an insect). The sole representative of its genus, the Banded Orange Heliconian is native from Brazil to central Mexico, and in summer it can be found rarely as far north as central Kansas. Its wingspan ranges from 86 to 89 mm, and it is colored a bright orange with thick black stripes in males, and a duller orange with fuzzier black stripes in females.
Siproeta stelenes – Malachite
Siproeta stelenes, commonly known as the Malachite, is a neotropical brush-footed butterfly (family Nymphalidae). The malachite has large wings that are black and brilliant green or yellow-green on the uppersides and light brown and olive green on the undersides. It is named for the mineral malachite, which is similar in color to the bright green on the butterfly's wings. The wingspread is typically between 8.5 and 10 cm (3.3 and 3.9 in). The malachite is found throughout Central and northern South America, where it is one of the most common butterfly species.

Featured in Its in the Detail on October 16/2011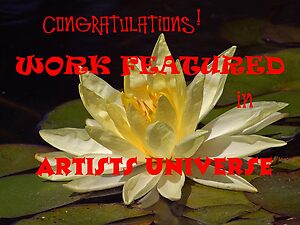 Featured in Artists Universe on October 9/2011

Thank you All for the visit and wonderful support, so very much appreciated.
Butterfly Kisses, Johanna