Have you ever experienced seeing a photo or a picture and asking yourself -"Why didn't I see that before?" Would you like to see more or even own and hang on your wall those kinds of photos? You would? Then you have come to the right place. Why? Because those are the kinds of photos I take and create.
I love to take/create photos of things that we normally don't see or maybe even take for granted. I especially love to use my macro lens in creating these photos. There is just so much beauty even in the most ordinary things like raindrops or the curl of a fern leaf, or even your ordinary egg slicer.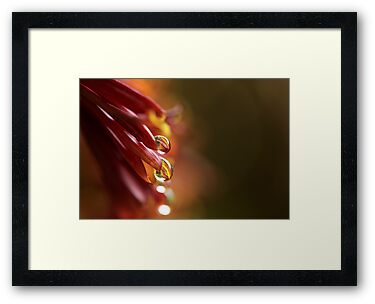 Welcome to my gallery and I hope you find something that resonates with you and make you want to share or even own it.
Of course I have photos of other things too especially those found in nature like flowers and animals and scapes.
I also have photoquotes or motivational and inspirational quotes on photos, perfect for your posters and cards
All my works are available for sale as cards, prints, posters or calendars.
If you wish to include specific works on a calendar, you are most welcome to do so. Just email me at baby.angtuaco@gmail.com and tell me what you like included. I will be happy to make a special calendar for you.
You are most welcome to browse around. I welcome your comments and feedback. I love interacting with people.
I also love writing about Photography and other creative stuff. My articles are in HubPages in case you are interested. I am known as "jill of alltrades" over there.
By the way, I also have a book of flowers as they are my very first subjects when I started my photography adventure. The title is: "Flowers Smile When They See Me": http://www.blurb.com/b/3573623-flowers-smile-wh...
Homepage Feature: