---
"Rhythms of the Heart"
Inner rhythm keeps time…
music flowing…
internal.
external.
Sounds branching out…
Inspiration poised
to take flight.
---
((Details: Image created in photoshop, abstract/visionary/surreal/digital art tshirt design by Leah McNeir, 2009.
This design features the silhouette of an acoustic guitar with a treble clef emblazoned on the guitar body, a raven clasping a musical note, and our inner metronome- the human heart, branching out like a Celtic Tree of Life's limbs & roots, with color details of veins as in a circulatory system resonating the rhythm of life. ))

Prints now available at: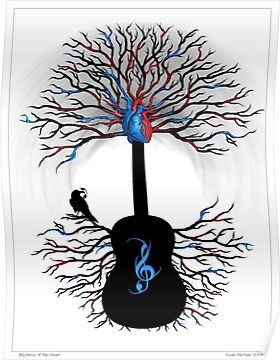 ---
Part one of the "Natural Rhythm, Musical Roots" series
---
Thank you to all who voted in the MUSIC MACHINES challenge held by Redbubble and DEMO!
'Rhythms of the Heart' has come in 3rd place in the public voting portion of this challenge! Thank you all so very much for your support! Congratulations to everyone who placed in the top 20!