Happy New Year's 2012 Everyone!!
While considered by the ancient Aztecs to be symbols of purity, in today's language of flowers, red, white or pink poinsettias, the December birth flower, symbolize good cheer and success and are said to bring wishes of mirth and celebration ! I wish that and more to each of you!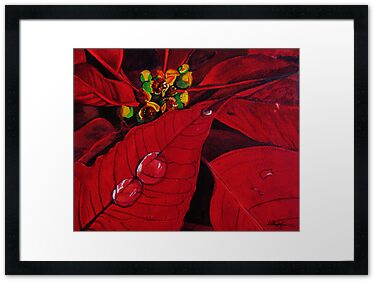 8 × 10
watercolor on arches cold press paper
A big thank you to Celeste Mookherjee who allowed me to paint her stunning macro photograph Sparkling Poinsettias. in the style of my other floral watercolors in my Watercolors collection.
Featured in Just Watercolors
Featured in Artists of Still Life
Featured in Art wtih Meaning
Artist of the Month – December 2012 in Painter's Universe