A wide angle view of the main rotunda of the Pennsylvania State Capitol Building in Harrisburg ~ a priceless architectural and artistic treasure, a majestic symbol of history and power, and an icon of democracy and freedom.
This palace of art was built in 1906 at a cost of $13 million! The Capitol features paintings, stained glass and furnishings by some of the best artisans of the day. The building incorporates various Renaissance designs – Italian in the House Chamber, French in the Senate Chamber, and English in the Governor's Reception Room. It also reflects Greek, Roman and Victorian influences in its art and ornamentation. Its five-story exterior is faced with handsome Vermont granite, and the roof is composed of green glazed terra cotta tile.
The Capitol's centerpiece is a spectacular 272-foot, 52 million-pound dome inspired by Michelangelo's design for St. Peter's Basilica in
Rome.
Stats: 4/21/11 ~ 56 favs, 727 views
Features:
Taken 2/24/11 – Harrisburg, Pennsylvania, USA
HDR/Tonemapping in Photomatix Pro
3 exposures: -2, 0, +2, Painterly Effect
Canon EOS 60D, Sigma 10-20mm wide angle lens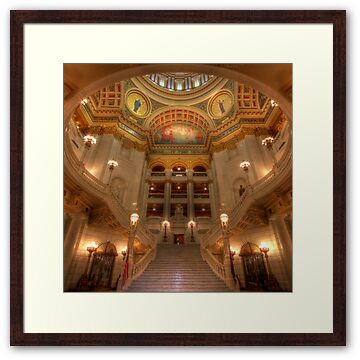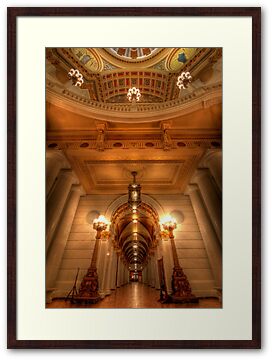 From our Welcome PA Photo Shoot in Harrisburg – June 2010