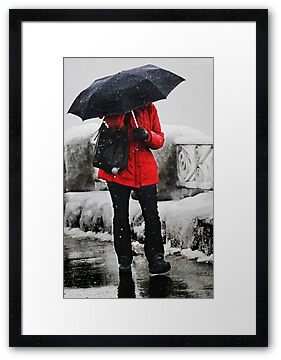 Featured In:
- Challenge Winner, Absolute Clarity, view
- The Human Condition
- Everyday Women
- Color Splash
- Top Ten, Moody & Evocative challenge (48 entries)
- Top Ten, Alphabet Soup challenge (42 entries)
- Alphabet Soup
- Snaptacular
- Top Ten, Shutterbugs challenge, view
- Top Ten, Snaptacular challenge
- this is Mother Nature's selective color – as it was a drab, grey, wet, snowy day, and the only thing that had color was the lady's red jacket – and it was subdued in the original pic. The contrast was enhanced in the hopes of adding more zip to the image – the original image – below – is straight from the camera – no adjustments. It was taken from the car window. As you can see the red coat had (muted) color (which the camera underexposed) & the overall pic is a dingy grey.
desktop
tablet-landscape
content-width
tablet-portrait
workstream-4-across
phone-landscape
phone-portrait