Traditional Art – 1st Place
SoJie 16, June 2012

Best in Show
SoJie 16, June 2012

Sally Sargent Fine Art Award
Overall Excellence in Fine Art
SoJie 16, June 2012

Randi Antonsen Fine Art Award
Medium Master – Pastel
SoJie 16, June 2012
This painting illustrates the hope for change from a bleak today into a bright and beautiful tomorrow.
So many people, especially in this tough economy are experiencing great hardship. And even if there is no financial stress there are health, occupational, marital and relational problems, terrible when it is with your own children.
Some of my favorites quotations that outline the concept of my piece are:
"In every cloud there is a silver lining"
- John Milton
"Never give up, never give up, never give up."
- Winston Churchill
"I have successfully demonstrated 1000 ways not to make a lightbulb."
- Thomas Edison
Here is a wonderful song that has inspired me over and over and I will share some of the lyrics, "There's a proverb I have heard, wisdom through and through, not in scripture word for word, still it's wholly true, This too shall pass".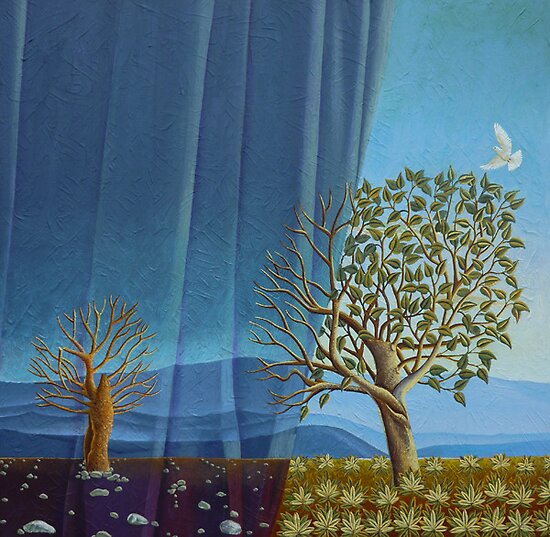 For inspiration and reference I used the work of photographer, Peter Dore Winter Skeletons

Winsor Newton Stretched Canvas: 20″×20″
Mixed media acrylic and oil pastels
Original is available
Featured in Inspired Art Group on June 21,2012
Featured in ART UNIVERSE Group on June 22,2012
Featured in A Place to Start Group on June23,2012
Featured in Atmospheric Land and Seascapes Group on June24, 2012
Featured in Acrylic Painting on June 23,2012
Featured in Vibration in Art and Verse – VAVoom!Group on June 24,2012
Featured in EASTERN EUROPEAN ART Group on June25,2012
Featured in Inspired By LIFE Group on June 25,2012
Featured in Living Christianity Group on June 25,2012
Featured in Contemporary Pastel Painters Group on June 26,2012
Featured in Exquisition Group on Lune 27,2012
Featured in Art in Math Group on June 27,2012
Featured in PAINTERS ACADEMICS Group on June27,2012
Featured on EXPLORE on June 30,2012
Featured in Painted Nature & Object Group on July 1,2012
Featured in Altered by Imagination Group on July 1,2012
Featured in Painters Universe Group on July 2,2012
629 views on July 10,2012
47 favorites on July 10,2012