BEST VIEWED LARGER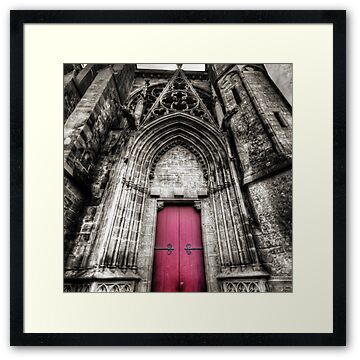 The ruby red doors of Carcassonne Cathedral in Carcassonne of southern France.
Carcassonne Cathedral (Cathédrale Saint-Michel de Carcassonne) is a cathedral and designated national monument in Carcassonne, France. It is the seat of the Roman Catholic Bishop of Carcassonne.
The building was built in the thirteenth-century as a parish church, dedicated to Saint Michael. Following war damage in the fourteenth century it was subsequently rebuilt as a fortified church.
In 1803 St Michael's was elevated to cathedral status, replacing the pre-Revolutionary cathedral dedicated to Saints Nazarius and Celsus. The old cathedral now serves as the Basilica of St. Nazaire and St. Celse.
*Photograph taken with Nikon D7000, 10-20mm Sigma lens @ 10mm, iso100, f5.64, 1/320 sec, handheld. HDR created from 3 bracketed exposures (-2, 0 +2), tonemapped in Photomatix. Final processing in PS CS4.
Others you may like: