BEST VIEWED LARGER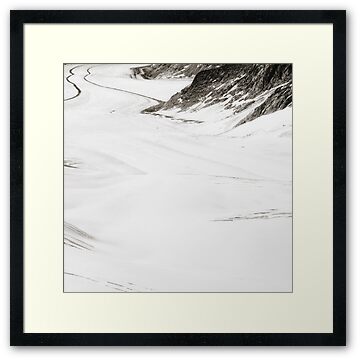 A group of adventurers set off to explore the Aletsch Glacier at the "Top of Europe" at Jungfraujoch.
Photograph taken from The Sphynx.
The Aletsch Glacier (German: Aletschgletscher) or Great Aletsch Glacier (German: Grosser Aletschgletscher) is the largest glacier in the Alps. It has a length of about 23 km and covers more than 120 square kilometres (more than 45 square miles) in the eastern Bernese Alps in the Swiss canton of Valais. The Aletsch Glacier is composed by three smaller glaciers converging at Concordia, where its thickness is estimated to be near 1 km. It then continues towards the Rhone valley before giving birth to the Massa river.
The whole area, including other glaciers is part of the Jungfrau-Aletsch Protected Area, which was declared a UNESCO World Heritage site in 2001.
Photograph taken with Nikon D7000, 55-200mm Nikkor lens @ 10mm, iso 100, f/4, 1/3200 sec HDR created from 3 images (-2,0,+2), tonemapped in Photomatix. Final processing in PS CS4.
Image added on 6th of July, 2011.
Others you may like: