VOTE to provide better viewing of large images HERE

A HDR panorama of Gotthard Pass.
I finally got the chance to revisit San Gottardo after first passing through this area last October (2010). The image that I took then and posted on RedBubble (a multi-feature and 2x challenge winning image) can be seen here.
Once used by another RedBubble 'artist' on his blog as "an example of Bad HDR", I vowed to revisit this location to improve my 'below standard work'.
Here is the result… I think it's an improvement (and I don't care whether he does or not). ;-)
Gotthard Pass (Italian: Passo del San Gottardo) (el. 2106 m.) is a high mountain pass in Switzerland between Airolo in the canton of Ticino, and Göschenen in the canton of Uri, connecting the northern German-speaking part of Switzerland with the Italian-speaking part, along the route onwards to Milan.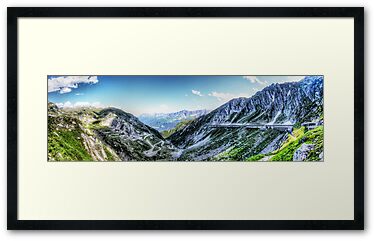 Though the pass was locally known in antiquity, it was not generally used until the early 13th century, because it involved fording the turbulent Reuss, swollen with snowmelt during the early summer, in the narrow steep-sided Schöllenen Gorge (the Schöllenenschlucht), below Andermatt. As early as 1236, it was dedicated to the Bavarian Saint Gotthard of Hildesheim.

I love this road and this area for the uniqueness and history surrounding it. I drove this very road on my first road trip to Italy in September 2010.
Note the small dots towards the bottom of the road – these are cars.
With the camera hand held, this panorma was created from 10 groups of 3 different bracketed exposures (-2, 0 +2), totaling 30 separate photos. Each bracket was tonemapped in photomatix creating 10 × 45 mb tif files. These tiff files were then stitched together in hugin creating a single 159mb tiff file.
This file was then opened in photoshop, duplicated to 2 layers. The top layer was run through Topaz denoise to clean it up, a layer mask was then applied to reveal the detail in the features below the horizon.
The file was then saved as a jpg for uploading.
Photographs taken with Nikon D7000, 10-20mm Sigma lens @ 10mm, iso 2500, f/4
Image added on 30th of June, 2011.
Others you may like: