BEST VIEWED LARGER
VOTE to provide better viewing of large images HERE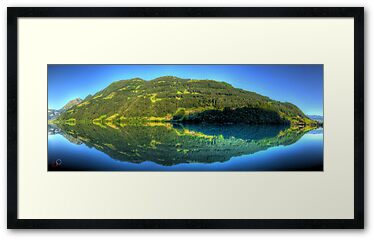 A HDR panorama from the shore of the Lungerersee, in the Swiss Alpine region.
Lungerersee
(also spelled Lungernsee or Lungerensee) is a small natural lake in Obwalden, Switzerland which is named after the town Lungern on its shore. It is used as reservoir.
The lake was originally much larger, and covered a large part of the valley it is situated in. Starting in 1836, its level was lowered by 36 meters through an artificial drainage tunnel of 380 m length
With the camera hand held, this panorma was created from 8 groups of 3 different bracketed exposures (-2, 0 +2), totaling 24 separate photos. Each bracket was tonemapped in photomatix creating 8 × 45 mb tif files. These tiff files were then stitched together in hugin creating a single 137mb tiff file.
This file was then opened in photoshop, duplicated to 2 layers. The top layer was run through Topaz denoise to clean it up, a layer mask was then applied to reveal the detail in the features below the horizon.
The file was then saved as a jpg for uploading.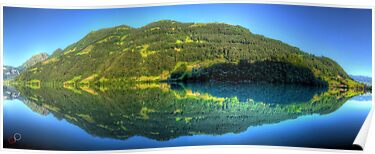 Photographs taken with Nikon D7000, 10-20mm Sigma lens @ 10mm, iso 100, f/4
Image added on 30th of June, 2011.
Others you may like: