VOTE to provide better viewing of large images HERE
Salburg Cathedral, Salzburg, Austria.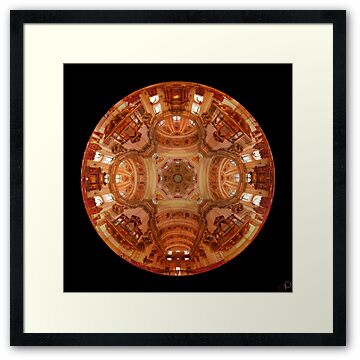 The Salzburg Cathedral (German: Salzburger Dom) is a 17th century baroque cathedral of the Roman Catholic Archdiocese of Salzburg in the city of Salzburg, dedicated to Saint Rupert of Salzburg.
It is the site of Mozart's baptism. And the composer Anton Diabelli sang in the Salzburg Cathedral boys' choir in the late 1700s.
The first cathedral was built under Saint Vergilius of Salzburg, who might have used foundations by St. Rupert. The first Dom was recorded in 774. The so-called Virgil Dom was built from 767 to 774 and was 66 metres long and 33 metres wide.
With the camera hand held, this 24 shot (portrait orientation) 360 degree HDR "vertorama" was created from 8 groups of 3 different bracketed exposures (-2, 0 +2), totaling 24 separate photos.
Each bracket (of 3) was tonemapped in photomatix, creating 8 x 46mb tiff files. These tiff files were then stitched together in hugin (photoshop CS4 could not handle it) creating a 175mb tiff file.
This tiff file was then opened in CS4 and final processing (noise reduction, saturation and colour correction, pretty borders and logos etc) was applied.
The processed image was then saved as a jpg format, resulting in an image of over 9000 pixels square and of 32mb in file size.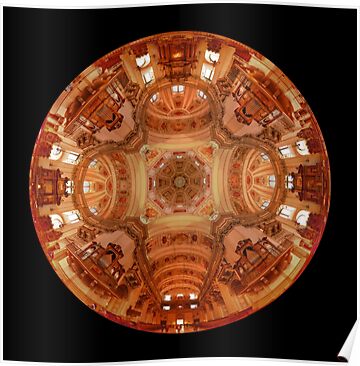 *Photographs taken with Nikon D7000, 10-20mm Sigma lens @ 10mm, iso6400, f/5, shutter 1/80sec, handheld.
Image added on 7th of June, 2011
Others you may like: