This is a 180 degree HDR panoramic view from above Sattel in canton Schwyz, Switzerland.
*VIEW IN LARGE HERE
9 raw frames shot in portrait orientation were taken. These were converted to tiffs and stitched together in PS CS4. Exposures were adjusted +/-0.75 and the 3 files tonemapped in photomatix.
The cropped tonemapped tiff was then masked with the original stitched tiff to mask and correctly expose the various parts of the mountains, valleys and sky.
Saturation of colours (white of the snow) was adjusted and Topaz denoise filter applied.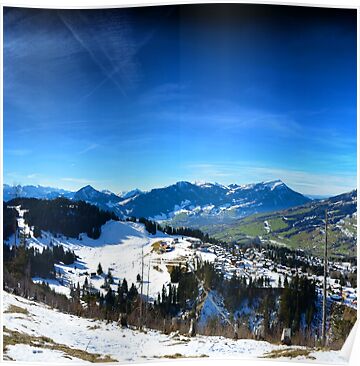 *Photographs taken with Nikon D7000, 18-55mm Nikkor lens @ 18mm, iso100, f/7.1, shutter 1/200, tripod.
Like me on Facebook
I just had to put this in here:

Others you may like: