Featured in the Wide Angle Photography and the Take Me Higher groups, February, 2011.
The suspension walking bridge found at Sattel, Switzerland.
Check a video out HERE
*The longest suspension bridge for pedestrians outside of Asia with a length of 374 m. Opened on 10 July 2010 in the pre-alps of the canton Schwyz above Sattel. The bridge starts at the upper terminus of the gondola station Mostelberg at an altitude of 1190 m (3904 ft) ASL. If you have no fear of heights, the bridge is no great challenge. It sways a bit, but the construction gives a safe impression.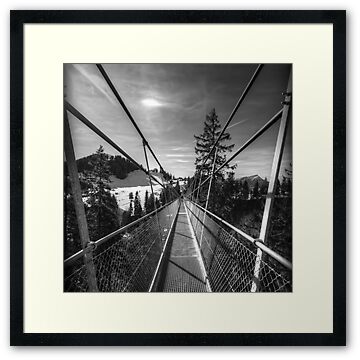 *Photograph taken with Nikon D7000, 10-20mm Sigma lens @ 10mm, iso100, f/7.9, shutter 1/200, handheld. HDR created from 1 raw image tone mapped in photomatix , topaz denoise and final processing in PS CS4.
Like me on Facebook
Others you may like: