Featured in the Your Magic Place group, January, 2011.
Please view large.
King Ludwig II's, Neuschwanstein Castle at Schwangau, Germany – Disney used this as inspiration for it's Disneyland Castle.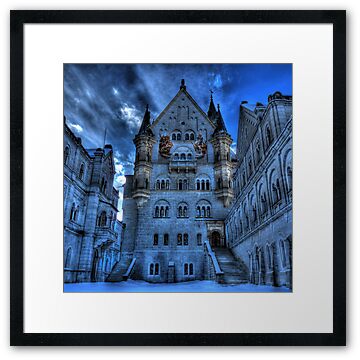 Ludwig II (Ludwig Otto Friedrich Wilhelm; sometimes rendered as Louis II in English) (25 August 1845 – 13 June 1886) was King of Bavaria from 1864 until shortly before his death. He is sometimes called the Swan King (English) and der Märchenkönig, the Fairy tale King, (German). Additional titles were Count Palatine of the Rhine, Duke of Bavaria, Franconia and in Swabia
Ludwig is sometimes also called "Mad King Ludwig", though the accuracy of that label has been disputed. Because Ludwig was deposed on grounds of mental illness without any medical examination and died a day later under mysterious circumstances, questions about the medical "diagnosis" remain controversial. One of his most quoted sayings was "I wish to remain an eternal enigma to myself and to others."
Ludwig is best known as an eccentric whose legacy is intertwined with the history of art and architecture. He commissioned the construction of several extravagant fantasy castles and palaces, the most famous being Neuschwanstein, and was a devoted patron of the composer Richard Wagner. Since his legacy of grandiose castles lives on in the form of massive tourist revenue, King Ludwig is generally well liked and even revered by many in Bavaria today.
Neuschwanstein Castle, or "New Swan Stone Castle", a dramatic Romanesque fortress with Byzantine, Romanesque and Gothic interiors, which was built high above his father's castle: Hohenschwangau. Numerous wall paintings depict scenes from the legends Wagner used in his operas. Christian glory and chaste love figure predominantly in the iconography, and may have been intended to help Ludwig live up to his religious ideals, but the bedroom decoration depicts the illicit love of Tristan & Isolde (after Gottfried von Strasbourg's poem). The castle was not finished at Ludwig's death; the Kemenate was completed in 1892 but the watch-tower and chapel were only at the foundation stage in 1886 and were never built. The residence quarters of the King – which he first occupied in May 1884 – can be visited along with the servant's rooms, kitchens as well as the monumental throne room. Unfortunately the throne was never completed although sketches show how it might have looked on completion.
Neuschwanstein Castle is a landmark well-known by many non-Germans, and was used by Walt Disney in the twentieth century as the inspiration for the Sleeping Beauty Castles at Disneylands around the world. The castle has had over 50 million visitors since it was opened to the public on 1 August 1886, including 1.3 million in 2008 alone.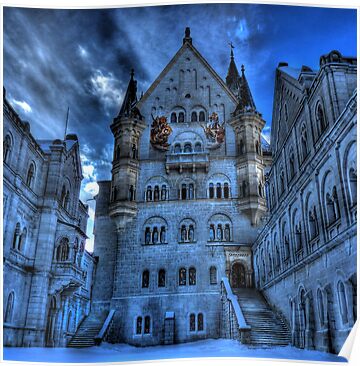 Photograph taken with Panasonic Lumix FZ-28
HDR created from 3 images (-1,0,+1), handheld, tone mapped in photomatix and final processing in PS.
Others in this series: