Featured in the Christian Churches, Statues and Crosses group, January, 2011.
"Pipe Organ – St Nicholas Cathedral" was chosen as the January 2011 avatar for the Christin Churches, Statues & Crosses group.
Fribourg (French), (German: Freiburg or Freiburg im Üechtland, often Fribourg, Italian: Friburgo or Friborgo) is the capital of the Swiss canton of Fribourg and the district of Sarine. It is located on both sides of the river Saane/Sarine, on the Swiss plateau, and is an important economic, administrative and educational center on the cultural border between German and French Switzerland (Romandy). Its Old City, one of the best maintained in Switzerland, sits on a small rocky hill above the valley of the Sarine.
207 years (1283- 1490) of hard labor to erect the cathedral, a High Gothic church, houses architecture and various objects showing trends of several periods of history.
The stained glass (1896- 1936), an artpiece by Jozef Mehoffer, of Polish descent, is essential in the field of religious Art Nouveau Stained Glass in Europe. Alfred Manessier, of French descent, added his touch to the artwork as it can be admired today.An outstanding 15th- century commitment to the grave
The classical and romantic organ (1824- 1834) represents the achievement of a local organ maker by the name of Aloys Mooser. Franz Liszt and Anton Bruckner played this monumental instrument of international notoriety.
The 76- meter- high Gothic tower takes the visitor up 368 divine steps accessible from April to November. It stands as the most original creation of the late Gothic era in Switzerland.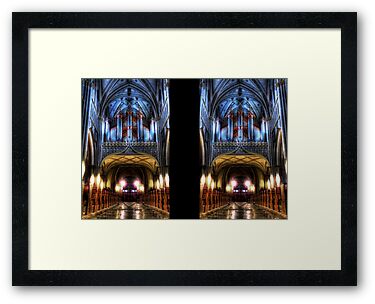 Photograph taken with Panasonic Lumix FZ-28
HDR created from 3 images (-1,0,+1) using tripod, tone mapped in photomatix and final processing in PS.
Others you may like: