Featured in Take Me Higher – Dynamic Range and Hometown Photography groups, December, 2010 and the Lumix Lovers group, April 2011.
Atop the Zugerberg (Mt Zug) behind my home town of Zug, Switzerland this tree can be passed by on the main road as one takes a walk or perhaps sets off on a longer hike.
I have stood in awe of this tree many times and it never ceases to impose upon me it's power, it's beauty and sheer presence.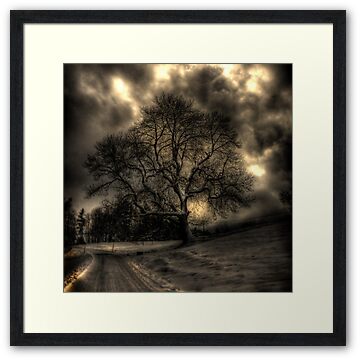 I have taken many photos to capture it's moods so far in several different times of year. This one has been it's darkest so far, and a moment I just had to share with others.
Photograph taken with Panasonic Lumix FZ-28
HDR created from 6 images (sky exposures -1, 0, 1), tone mapped in photomatix and final processing in PS.