In 2010 I did a project called 1 Year of Pixar. I had 4 couples from Pixar movies and I shot every couple 4 weeks per month. In total every couple had 3 months of fame and glory.
The figures were from the movies: Cars, Toy Story, Monsters Inc. and The Incredibles.
It was fun to do, sometimes hard and sometimes it didn't work out the way I wanted it to be.
This one is week 29/52, Mike and Sully from Monsters Inc, standing on the haystacks that lay across the street in the fields waiting to be picked up.
Taken with:
Pentax K200D
Sigma 10-20 mm f/4-5.6
ISO 100 11 mm f/11 1/180 sec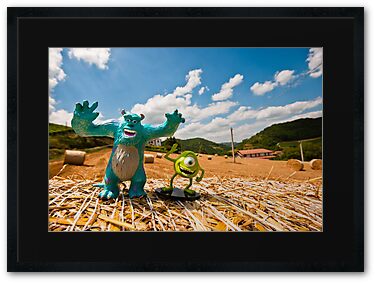 Featured in Weekly Theme Challenges