The birth of 'the Butterfly series', this piece was made in a similar way to my other pieces by manipulating a single picture and layering it over itself multiple times. In this case, I began with a photo of my dog. But the photo of my dog DID NOT contain a butterfly or a flower, these images emerged from the layering technique. It was pretty amazing.
For further explaination of the creation of this image check out my art blog.
Now available on your iPad case!

Butterfly in Flowers (available in prints, tees and cases)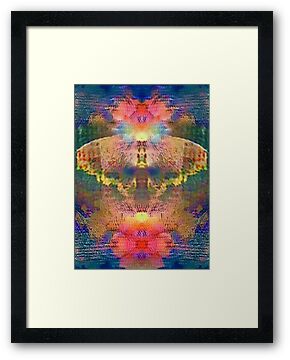 Butterfly Collection #1 (available in prints and tees)

Butterfly Collection #2 (available in prints, tees, and iPhone cases)

Butterfly Collection #3 (available in prints, tees, and iPad cases)

Butterfly's Return (available in prints and tees)