This cutie is my friends puppy Buddy. I got the opportunity to snap some shots of him the other day and he kept on wanting to take my camera away from me! Little rascal!
Several people have mentioned that I should offer this to Canon to see if they may be interested in buying it for use in an ad. I sent them an email but have not heard back. Then another friend said "Send it to Nikon! Maybe they will use it in an ad saying "Nikon takes a bite out of Canon!!"
Taken with a Canon Rebel xti.
853 views and 81 favoritings on 09/23/2010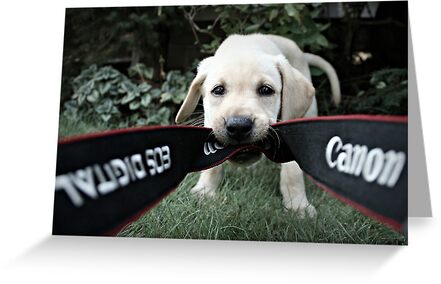 Featured in:
Cats and Dogs
Eye Contact
Pets Are Us
The World As We See It , or as we missed it
#1 Artists of RedBubble
YOU BIG SOFTY
Respectful Retrievers
The Beginner's Corner
Human. Animal. Nature
For the Love of Dogs
Caption Fun
For the Love of Dogs
HIGH QUALITY IMAGES..PHOTOGRAPHY ONLY!
Labrador Retrievers
All Soft and Cuddlies
Winner of the:
Mischief…..people or animals challenge
Dogs Only challenge
Good News Group – Sharing and Caring challenge
That's Not Mine!
Top Ten in:
Things that Make You Laugh challenge!
Featured on the RB Popular Art page on 09/05/2010