Nina, our 1 year old American Staffordshire Terrier (aka Pit Bull) , enjoying another photo session with Mom. When Nina sees the camera come out, no matter what she's doing, she sits down and waits to see what it is I want her to do.
Canon Rebel xt
THIS is a Pit Bull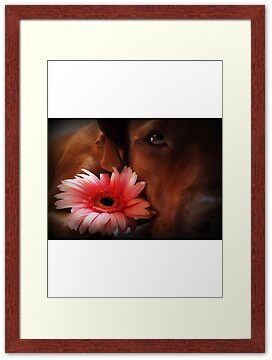 Little-known facts about Pit Bulls:
Quoted from Pit Bull Fact vs. Legend
Pit Bulls serve as therapy/service dogs. The Chako Rescue Association has Pit Bull therapy dogs in Texas, Utah and California. Helen Keller even had a Pit Bull as her canine companion and helper. Cheyenne and Dakota are a team of hard-working Search-and-Rescue Pit Bulls in Sacramento, California. They play an important role in their community by locating missing people in conjunction with the local Sheriff. In their off-duty hours, they do charity work as therapy dogs.
Petey, the faithful dog on the TV show, The Little Rascals, was a Pit Bull. He spent countless hours with children day after day and never hurt anyone. He was one of the most intelligent Hollywood dogs of all time.
There are quite a few celebrities who have Pit Bulls as members of their family including: Rosie Perez, The Crocodile Hunter, Judd Nelson, Usher, Alicia Silverstone, Cassandra Creech, Sinbad, John Stuart, Amy Jo Johnson, Linda Blair, Vin Diesel, and Bernadette Peters.
Pit Bulls are heroes! America's first war dog was a Pit Bull named Stubby. He earned several medals during World War I and was honored at the White House. The Ken-L-Ration dog hero of 1993 was a Pit Bull named Weela. She saved 30 people, 29 dogs, 13 horses and a cat during a flood in Southern California. A Pit Bull named Bogart saved a four-year-old child from drowning in a swimming pool in Florida. Dixie, the Pit Bull, was inducted into the Georgia Animal Hall of Fame after she saved some children from a Cottonmouth snake.
Pit Bulls are one of the most stable people-friendly dogs in existence. The National Canine Temperament Testing Association tested 122 breeds, and Pit Bulls placed the 4th highest with a 95% passing rate!
*10% of all proceeds will go to Pit Bull Rescue Central
Please click here to find out more about Pit Bulls.
Featured in:
Cats and Dogs
Paws n Claws
The World As We See It , or as we missed it.
All Soft and Cuddlies !!
Rescued Pets
BSL Worldwide Targeted Dog Breeds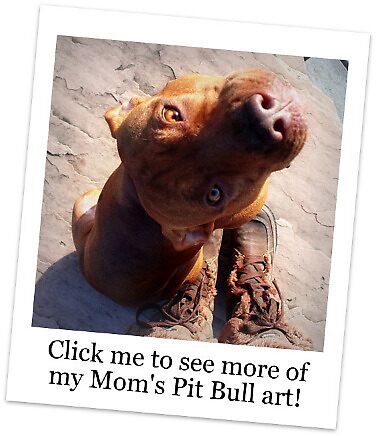 Please contact me directly at KristinaGl@ymail.com for Limited Edition print purchasing options