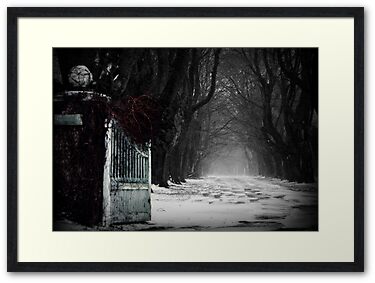 Gate and driveway on a snowy day (January 2, 2010) in Bridgehampton, Long Island, New York, USA.
This photo is currently on exhibit in the Three Points of View Art Show at North Main Street Gallery in Southampton, NY.
2 sales so far! Thank you so much to the people who chose to buy this piece!
Please contact me directly at KristinaGl@ymail.com for Limited Edition print purchasing options
Featured in:
***♂♥♥QUORN♥♥♀*
The Top Favorite Group – 30 or more
Unlimited Quality
Vanishing Points
Your Magic Place
# 1 ARTISTS OF REDBUBBLE
The Woman Photographer
All About New York State
You're Accepted
Nirvana
Fountains, Wrought Iron & Gates etc
Disability and Beauty
Tunnel Vision
We Love Wilbur
Australia, UK and The USA
The World As We See It
The Secret Society
Featured Features
First Place Winner in the Which Way – Roads with Snow challenge
Top Ten Winner in the United States Challenges Only – Winter Where YOU Live challenge
Featured on the RedBubble Popular Art page on January 10, 2010
2206 views and 120 favorites as of 02/23/2011