Photo was taken in my kitchen in Kenosha Wisconsin, USA with a canon DSLR, 18-55mm lens.
464 Views.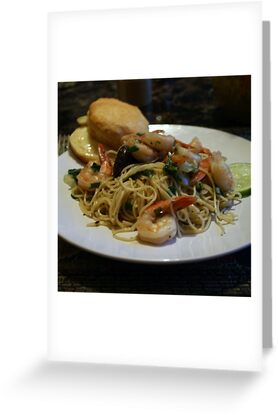 Receipe Follows:
3 tablespoons vegetable oil,3 turns of the pan.
2 teaspoons crushed red pepper flakes
4 cloves garlic, chopped
2 inches ginger root, peeled and cut into very thin matchsticks or grated
1/2 pound shitake mushroom caps,sliced a couple of cups
1 medium bok choy, trimmed and cut into 3-inch pieces, then cut sticks lengthwise
salt and pepper
1 quart chicken broth
1 cup seafood stock, available on soup aisle or, 1 cup clam juice
1 1/2 pounds medium peeled and deveined shrimp
1/2pound vermicelli (thin spaghetti)
4 scallions,cut into 3 inch peices,then shredded lengthwise into thin sticks
Directions:
Heat medium soup pot over medium-high heat, add vegetable oil, 3 turns of the pan, crushed red pepper flakes, garlic, ginger, mushrooms and bok choy, then season with salt and pepper. Add chicken broth and seafood stock or clam juice. Put a lid on the pot and bring soup to a boil.
Add shrimp and noodles and cook 3 minutes. Add in scallions and cook 2 minutes, then turn off soup and let it sit 2 to 3 minutes more.
Fantastic!!!
Prep Time is 10 minutes
4 servings