Say to the righteous that it will go well with them,
For they will eat the fruit of their actions.
Isaiah 3 :10
All these blessings will come on you and accompany you if you obey the LORD your God
You will be blessed in the city and blessed in the country
The fruit of your womb will be blessed, and the crops of your land and the young of your livestock—the calves of your herds and the lambs of your flocks
Your basket and your kneading trough will be blessed.
You will be blessed when you come in and blessed when you go out.
The LORD will grant that the enemies who rise up against you will be defeated before you. They will come at you from one direction but flee from you in seven.
The LORD will send a blessing on your barns and on everything you put your hand to. The LORD your God will bless you in the land he is giving you.
Deuteronomy 28:2-8
This image is a dedication for beautiful and colourful season of autumn.And we tell such great Thanks to the Lord for all especial blessings which we receive in autumn abundance!
from a collection of congratulatory cards this year. This image made in photoshop with filters, brushes, layers, with some image of stock and my photograph.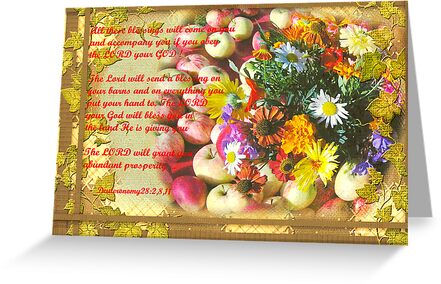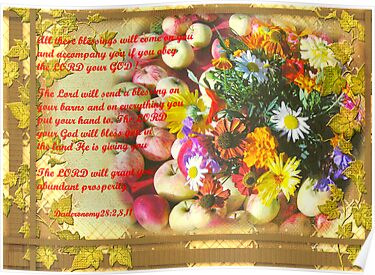 11-12-11