The Lady of the Lake ~ inspired by snapitnc's image "LADY OF THE LAKE"
Image 'LADY OF THE LAKE' by Mike – aka snapitnc.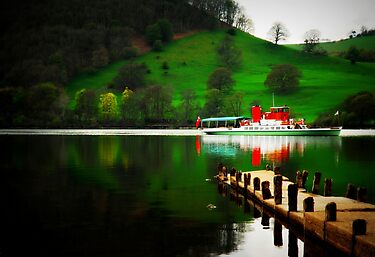 Reflections born of another age
Of spirit sweet and times innocent,
Where love was honoured above all else
For its purity and beguiling scent;
That's where she wanders by fields so green
Set adrift upon the tides of merriment,
Pondering the shallows and the depths
Of life's current and how it best be spent
- the Lady of the Lake.
With spirit as free as a bird in flight
She intrigues all with breathless charm,
With manner meek and beauty fair
And with the passion of a dreamer's heart;
Never to be anchored by man's dominance
She never strays from her chosen path,
To find rainbow's end and treasure true
In lands exotic, both near and far
- the Lady of the Lake.
How she captivates with her exquisiteness
Charming souls quite unsuspecting,
Modest in step and touch and action
Enticing lover with elegance unassuming;
She will call to you with voice ghostly silent
Hypnotising you with the melody her soul sings,
Daring you to step into the freedom
That love and passion oft does bring.
- The Lady of the Lake…
Set your heart for a journey beyond all imaginings
Travel to a place where knowing gains new sight,
A place where inhibitions fade in the brilliance of passion's liberty
Where fear and apprehension swiftly take flight;
Take the hand that is offered freely
Set sail on a path your spirit knows is right,
And you will discover your self's true identity
In the depths of your soul to which she brings delight
- The Lady of the Lake.