Web Gallery: www.kerrythompsonsgallery.com
TV show: http://www.youtube.com/watch?v=Zs2xjQb8Sic&...
Welcome to my RedBubble home. To purchase cards, prints etc of any of my work, choose the painting you like from the collection/s on the right, then follow the buy/preview links. To view or purchase calendars (you can create your own start date), click on the "calendars" button on the right. Scroll down for a bit of my story.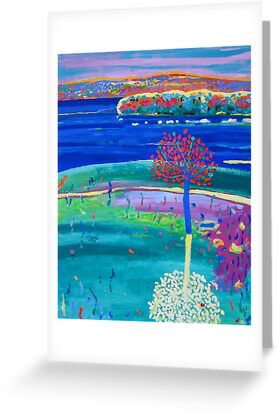 You can watch a YouTube slideshow of my paintings http://www.youtube.com/watch?v=QggQeoF9umU
with music generously provided by the gorgeous Zoe Lewis (http://www.zoelewis.com)
After training then working in science, I've been a cartoonist (including the Sydney Morning Herald), book illustrator and author since 1986 under my nom de plume, "Kerry Millard" ( www.kerrymillard.com ).
At the end of 2008 I started painting with acrylics on canvas and in contrast to my work as a cartoonist, love being able to follow a painting in any direction, being able to use lots of paint and wallow in colour, and not having a deadline. I also love working on creations larger than 10cm x 10cm! Everything at this stage is an experiment and exploration.
Oh, and I illustrated "Nim's Island" by Wendy Orr which was made into a feature film starring Jodie Foster in which I appear for 1 1/2 seconds. One of my shorter career moves.
I have an online web gallery where I put each one as it's painted so everything's there right back to the first ones- fun to be reminded of what followed what- please drop by!
www.kerrythompsonsgallery.com