I was asked by Creative Tauranga to present an idea for a piece of art for the new TECT Arena at bay Park to Tauranga City Council, a small number of artists and photographers were invited, lucky for me the idea was accepted.
Matapihi Railway Bridge – Morning, Noon and Night – The Concept
This work originates from a small seed of an idea, I had to photograph a panoramic view of the Matapihi Bridge from the harbour side. It's an idea that grew and multiplied each time I visited the bridge, then it turned into a concept of "Morning Noon and Night."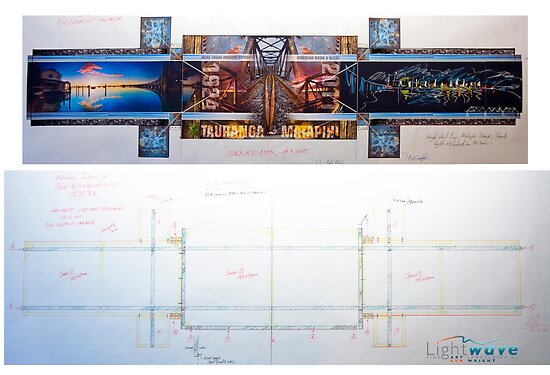 concept presented to the council
A simple idea struck me just from looking at the rails. I've seen lots of rails around the North Island, and many of them are rusty and tarnished from lack of use. The rails at this location…