5000+ Views
Echinacea purpurea (purple coneflower) with a dark twist.
This was the first of my Dark Dreams flower series, most of which I have pulled from redbubble. It was also one of my first images here.
Obviously it was photoshoped. I get a lot of questions about why there are scratches on it, it was to give it an old aged look. The texture would make it a great canidate for a canvas print… hint hint ;)
This is the original:

I believe this is the largest image in my portfolio, and that is because it was taken with my old 35 mm SLR, then scanned in (I have a really good scanner that scans really big)
If you are seeing this image in a group for the first time, that is because I just realized it wasn't in any groups! I must have cleared it out to make room for newer stuff.
This peice was my very first one chosen on the Featured Art page and was featured in Ebony and Ivory group.
Thank you!
---
This piece can be found in my Flora Calendar.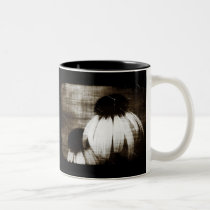 For more products featuring this image, visit Karri's Zazzle Store